Because of the covid-19 outbreak, ML@LIS is postponed. Subscribe here to get updates on the future date.

Theory, Techniques and (interdisciplinary) Applications
02/04/2020 – 9 am to 4 pm
Conference room Gérard Jaumes – St Jérôme – Marseille
---
The ML@LIS conference is a one-day conference where researchers from the Laboratoire d'Informatique et Systèmes (LIS) will make scientific presentations of their work focusing either on theoretical, technical or applicative aspects of Machine Learning. This conference is free and open to everyone (from within and outside the LIS laboratory) with basic understanding of machine learning. Don't forget to register, please.
The ML@LIS conference objectives are:
animate the internal life of the laboratory, to ensure that we discover what is being done in the different teams, to establish links and perhaps even open the door to collaborations if the discussions are going well;
give an overview of what is being done in Machine Learning at the LIS for the Marseille eco-system interested in machine learning (researchers, startupers, etc.).
Register here for the conference. Please, note that access to the buffet can't be guaranteed if you do not register.
Schedule
Provisional agenda, may be subject to changes in the future. More details available here:
8h45: Welcome
9h00-9h10: Introduction
9h10-10h30 : Session 1: Theoretical Machine Learning
10h30-10h45: Coffee break
10h45- 12h15: Session 2: Applications of Machine Learning
12h15- 13h45: Lunch time
13h45-14h45: Session 3: Deep Learning
14h45-15h00: Coffee break
15h00-16h00: Session 4: ?
---
Call for presentations
As the event would be open to all members of the laboratory as well as the external public, the presentations should be scientific but also accessible for someone with a basic background in Machine Learning. The idea is to make it a friendly event, a little bit technical so we can discuss but simple enough to be inclusive for machine learning amateurs.
If you want to propose a presentation, you must prepare a title and an abstract for your talk. General rules for the presentations are :
Only LIS members can make a submission for a presentation;
Presentations/abstract will be in english;
Machine learning must be central in the presentation and it should be stated clearly in the abstract;
The presentations will be open to non-experts of your discipline and then the abstract should be understandable for such non-expert individuals;
If there are too many propositions, yours might be declined but you'll be proposed to make a poster presentation for lunch time;
Talks will be selected so that all teams are represented.
To propose a presentation, you have to fill in a submission form accessible here.
Deadline: 06/03/2020
---
About
This conference is organised at the instigation of the QARMA team, and the organisation comitee is made up of members of different research groups spread over several sites:
Jeremy Auguste – TALEP – Luminy
Véronique Bianciotto – Administrative Service – St Jérôme
Julien Dejasmin – QARMA – Chateau Gombert
Oussama Djedidi – SASV – St Jérôme
Valentin Emiya – QARMA – Chateau Gombert
Luc Giffon – QARMA – Chateau Gombert
Manon Scholivet – TALEP – Luminy
Ronan Sicre – QARMA – Chateau Gombert
---
Practical informations
When? 9am to 4pm the 2nd of April 2020
Where? Conference room Gerard Jaumes, Polytech Building, St Jérome, Marseille, France
Call for presentation link (different than public registration)
Important dates
The event is postponed. Dates are not valid anymore.
Opening call for presentations: 31/01/2020
Registration open: 31/01/2020
End call for presentations: 06/03/2020
Acceptation notification: 13/03/2020
Final program: 20/03/2020
Conference: 02/04/2020
Location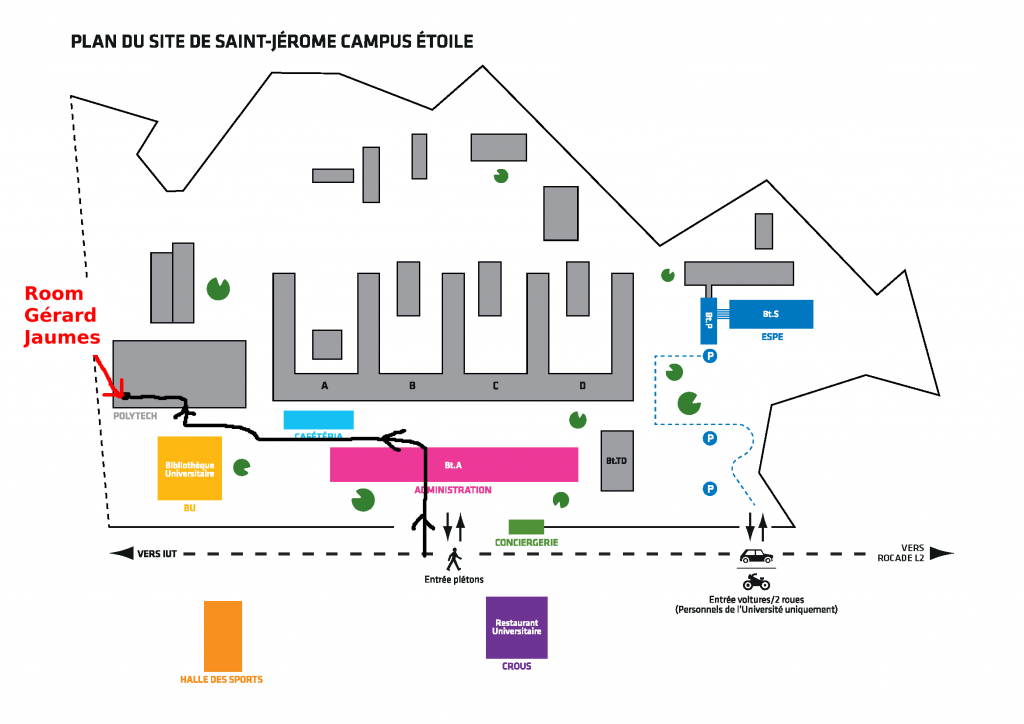 ---